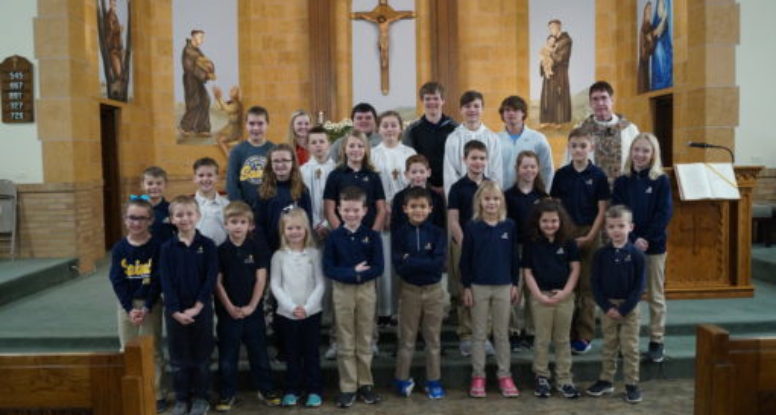 National Catholic Schools Week
This Sunday, 27 January St. Anthony students that attend All Saints Academy and Mater Dei High School kicked off Catholic Schools Week during mass. Now entering its 46th anniversary year, National Catholic Schools Week is the annual celebration of Catholic education in the United States. The theme for National Catholic Schools Week 2020 is "Learn. Serve. Lead. Succeed?. Catholic Schools Week runs and there will be lots of exciting events planned for the students of ASA and Mater Dei.
At the 8:30am mass on Sunday, Jan. 26 at St.Anthony's Parish, we would like your children to

 wear their 

school

 uniform 

and meet Erin Etheridge, Brenda Pollmann, and Phyllis Mensing in the back of church approximately 10-15 minutes before mass. We also ask that some of your children bring their Religion books to carry in with them. 

 All of the students will walk up with Father Chuck and pews will be reserved in the front of church for them to sit in. Brenda and I will be sitting up front with them as well. Parents are encouraged to sit in the pews directly behind the students. 
Also, after mass we would like to take a group picture of the students with Father Chuck in the front of church.
Servers- Landon Grapperhaus, Luke Etheridge, Elise Etheridge
First Reading- Reagan Porter
Second Reading-Savannah Hopkins
Petitions- Grace Etheridge
Gift bearers- Anna Pollmann, Gwenyth Etheridge, Max Pulver, Chloe Grayling, Briar Hopkins

Ushers- Brayden Buehne, Brett Buehne, Jacob Loepker, Chase Voss

Small thank you reading at the end of mass- Olivia Etheridge/Cayden Holtgrave
At the end of mass, the children will walk out with Fr. Chuck. 
Don't forget to meet back up in the front of church for the group picture after mass! 

If you have any questions at all, please contact Erin Etheridge at 618-604-7640.